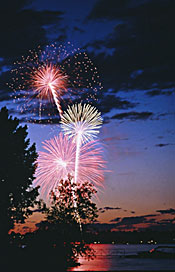 Drake Publications is located in Oakridge Oregon 38 miles S.E. of Eugene, in the Cascade Range off Hwy. 58, on Rainbow St. #25.
We started doing shows in 1986 as Handcrafters with Austrian Crystals, Beaded Jewelry, Sterling Silver & Gold Filled Wire Wrap and Pewter Figurines. We also Carried Crystal Balls & Pewter Ornaments, Paua Shell Jewelry, Art Noveau pieces, Indo-Thai Jewelry etc. as Commercial (Buy/sell) as well.
We've experienced first hand, the frustrations of finding the locations and shows available for our products especially being both commercial & handcrafted. Plus the time consuming and expensive calls necessary to contact the show coordinators.
In 1992 we published our first Oregon Guide (as Carter's Guides) for Crafters, Food Vendors & Commercial vendors to help them to schedule their show agendas more easily and with as much information as we could gather, to make their choices better informed, and with the best success.
We came to this after doing what turned out to be 3 bad shows in a Row. If we'd had more information we might have been able to make better decisions, such as one of the shows did no screening for duplication and we were the 8th jewelry booth in a solid line of jewelry booths, another turned out to be an Indian Emcampment/Pow Wow with no advertising etc........
At one time we went by ratings and found they were not a good gauge for basing our income on. Rather the facts of attendance, deadlines & advertising, attractions & locations are a better gauge. Plus we've found also that there are always some vendors that do well at what is considered bad shows, and some that do badly at what is considered good shows.
By 1994 we decided we couldn't continue doing both shows & the Guides, so we went to doing the Guides only. Since then we've grown from publishing books for one state to seven western states!
To see a sample page Just Click here!
Home| About Us| Guide Info| Order Here| Add New Show| Sample Page
© Copyright Drake Publications